Meet the global winners of THORNICO AWARDS 2020
Every year, since 2011, we have celebrated our many talented, dedicated and competent employees in the THORNICO Group through the prestigious THORNICO AWARDS.

Usually, the global THORNICO Award winners are crowned with a special award celebration at our yearly THORNICO Event in Denmark – an event where Company Karma is the wide storyline.
But this year is one for the books. COVID-19 has been a game-changer in so many ways, and one of them has been our way of celebrating the global winners of the THORNICO Awards. Even though we have had to do the award celebrations a little differently, we have had a great experience doing it locally with the nearest colleagues around, lots of heart warmth and good karma.
From a strong field of nominations, the global winners of the three THORNICO Awards categories, Company Karma, Idea and Synergy, have been revealed. Below you can meet this year's global winners of the THORNICO Awards – who can be very proud of their new well-deserved awards.
Company Karma Award 2020
Marco Dal Santo and Stefano Ranghetto - SANOVO TECHNOLOGY Italy
Marco and Stefano are always positive and kind persons, who have shown a great availability and dedication to the needs of SANOVO TECHNOLOGY Italy. Exceptionally, the two colleagues performed a very long start-up of more than two months for a new big plant in Latvia during the COVID-19 lock-down period. Well done, Marco and Stefano. And thank you for being such committed colleagues, always ready to support your colleagues and spreading good karma within the THORNICO Group.
Idea Award 2020
Inger Hansen - Lactosan Denmark
Inger is a fighter! Not just for her team but for Lactosan. For many years she has taken part in the growth of the company - among others by her great ideas. Besides being enterprising and full of excellent ideas, Inger is a fantastic manager for the Innovation Team, and she sees the best competencies in every employee. Well done, Inger. And thank you for being a part of THORNICO.
Synergy Award 2020
Burcu Duman, Tina Jensen, Martin Ahn - hummel Turkey and Denmark
Burcu, Tina and Martin, with the support of their teams, have been instrumental in driving the integration of and collaboration between hummel Turkey and hummel HQ. The credit goes to the entire teams operating across all major functions - from finance, product, marketing, logistics, IT to sales and retail. The pace of integration, the level of collaboration and synergies achieved in the last months has been impressive. Well done and congratulation to this year's greatest synergists, Burcu, Tina and Martin.


Congratulations to all of the winners.
We are proud that you are a part of our THORNICO family.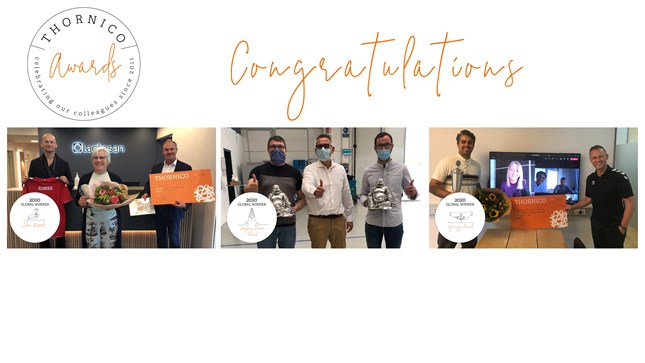 Meet this year's global award winners in our three THORNICO Award categories; Company Karma, Idea and Synergy.

Meet this year's MyKarma Project winner Ozge Sabuncu and learn more about her fantastic project, One Bag = One Hope.

When we build new production and logistics facilities within our group, we need to consider the green transition in the process. Read more about our investments in i.a. solar energy, here.